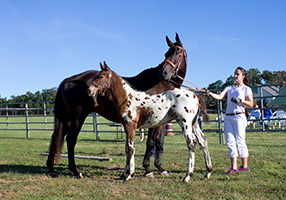 S= Sheik af Hallundbaek KNN 202 DK Knab
DS= Pago's Pal xx

FOR SALE
S= Danish Design af LaRen
DS= Ambrosius af Asgard KNN 189 DK Knab aka "Atlantis"
DDS= Pago's Pal xx
LAIONE AF LAREN is a very special boy with a brave personality and a powerful hind end. "Lion" is a beautiful black framed gelding with nice contrasting near leopard pattern. He has a well-set neck, excellent shoulder, and good bone. Just enough Thoroughbred blood lends to his potential as a future eventer. No doubt about it, this guy will get you noticed and not because he has BLING! "Lion" will be big (should mature around 16.2hh), with excellent bone and feet to match his size. His gaits are pure and big too: good over stride at the walk, suspension in the trot, and uphill at the canter. The nice inquisitive temperament we see on this youngster will only solidify with age. He is sure to become an intuitive partner that bonds with his rider and performs courageously – with the "heart of a Lion".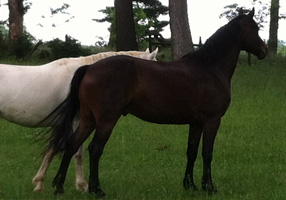 FOR SALE
S= Sheik af Hallundbaek KNN 202 DK Knab
DS=Felix KNN 140 DK Knab
DDS=Hermes KNN 99 DK Knab
LEGACY AF LAREN is sheer beauty! This stunning bay gelding strikes excellence in the balance of form and function. Rocco is tall and well behaved, with a dreamy uphill exterior. He will have a tremendous future as a sport horse. He is a serious upper level prospect for the ambitious amateur or professional. He has all the qualities of a top-notch warmblood, but above all, that wonderful Knabstrupper temperament!! He is an elegant, modern riding horse type with enormous gaits that are lofty and light. You can barely hear him touch the ground… Lots of air time. Rocco is willing, confident and trainable – a gorgeous young horse that we have every belief in to become a world-class competitor. We offer you the best of our breeding program. Your legacy awaits…

S= Sheik af Hallundbaek KNN 202 DK Knab
DS= Felix KNN 140 DK Knab
DDS= Stavsdal's Lobi DK Knab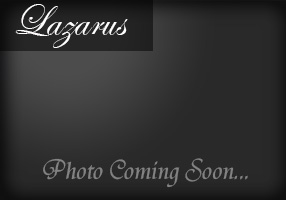 Lazarus af LaRen~ Hello handsome! This exquisite young man is a site to behold. His classical good looks attest to his 100% purebred ancestry. Laz is very tall standing at 15HH as a yearling, he possesses fluid rhythmical gaits and a bold inquisitive personality. Loaded with potential we will give special consideration to a serious show home.