FOR SALE
Here she is….. Leanora af LaRen this girl wants to please and boasts personality in spades creating a certain magnetism that instantly draws people to her. Not to be out done is her striking leopard exterior. She loves to show off her super expressive paces and tempo. Lea is a serious contender for any arena as well as being the ultimate breeding prospect.
S= Danish Design af LaRen KNN
DS=Figaro af Hallundbaek KNN147
DDS= Gaucho KNN 52 DK Knab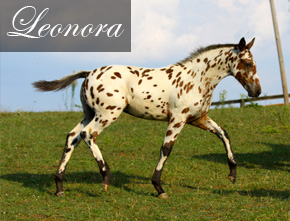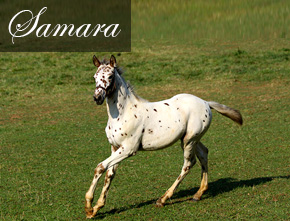 FOR SALE
Samara af LaRen ~ Is very modern and elegant in type. She has unique markings and a heart of gold. This long legged sweetheart will end up being near 17HH. With undeniable presence and a self-confidant demeanor she will excel is any program. Foals with this outstanding heritage and appeal rarely come along twice in a lifetime. Samara has that ooh la la factor!

S= Sheik af Hallundbaek
DS= Don Ibrahim KNN 92 DK Knab
DDS= Gaucho KNN 52
Bay Beauty~ A Beauty indeed. This is a very large framed mare with a gorgeous head, tremendous shoulder, and large immense haunches. She has big smooth ground covering strides with marvelous reach and lift . Beauty has proven herself as a bold, tidy, and scopey jumper who never bats an eye at a jump no matter how intimidating.
2043927 USA BL S= Pago's Pal xx
Tusindfryd is one of only sixteen 100% purebred Knabstruppers in existence. She was the champion mare of her four year old classic type category at the KNN grading, and voted horse with the prettiest coat and color. Tusin is a massive mare with a thick beautifully shapen neck that flows into her shoulder perfectly. Just one example of how well she is put together with such clean body lines. She just exudes power not to mention her one of a kind unparallel beauty. An extremely unique mare.
S=Felix KNN140
DS=Stavsdal's Lobi 8801432DK Knab
DDS=Tordenskjold 7200735DK Knab
Mynthe...There aren't enough words to describe this mare. Her movement is remarkable she just floats with so much extension and spring. Bold and curious, unafraid of anything with so much heart and talent. She will be producing top level knabstruppers for years to come.
S=Felix KNN140
DS=Hermes KNN99
DDS=Fokker DH 138 DK DV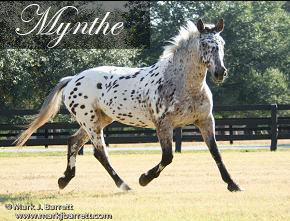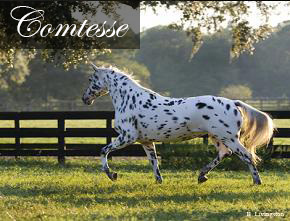 Comtesse, KNN 2076, is a big substantial mare. Very elegant with an expressive eye and a noble head.
S=Rasmus AF HallundbaekKNN119
DS=Don Ibrahim KNN92
DDS=Gaucho KNN52
Lourdes af LaRen...A very strong sporty solid build and substantial yet still refined. She is easy to handle, level headed and extremely bright. Her dam was a mare of explosive power with large haunches and a tremendous shoulder, whom excelled in the jumpers as well as dressage recently. Lourdes is sure to be a real powerhouse.

S=Ambrosius af Asgard AKA Atlantis KNN 189 DK Knab,
DS= Pago's Pal xx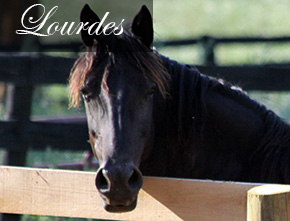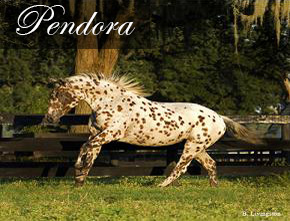 Pendora af Vilhelmsgard...Absolutely adorable and already shows tons of potential. She is out of a top level jumper mare with Kimmi af Noerhalne in her pedigree. One of the most influential Oldenburg stallions sire of numerous top level competition horses. There is no limit to Pendora's capabilities.

S=Figaro af Hallundbaek KNN147
DS=Kasper OLH 701 DK Old b
DDS=Patrokles KNN107
Fiona fra Vinterleyegaard is cute as a button and a classical type mare to a tee. Plenty of bone, she is lively and talkative with a spectacularly majestic appearance. She is truly a lovely lady.
S=Figaro af Hallunbaek KNN147
DS=Apollon KNN108
DDS=Gaucho KNN52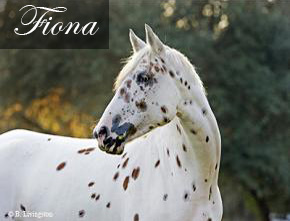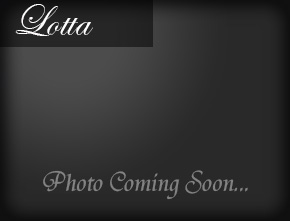 Lotta af LaRen ~ This purebred filly would make an excellent producer of spotted main book eligible offspring. Lotta has all the characteristics of the Knabstrupper breed mottling of the skin, striped hooves, and white sclera. Lotta captivates with alota charisma and charm. With a top paternal and maternal pedigree this little gem would make an outstanding partner for competition and a superb broodmare one day.
S=Danish Design af LaRen
DS= Ambrosius af Asgard KNN 189 DK Knab aka "Atlantis" DDS= Pago's Pal xx