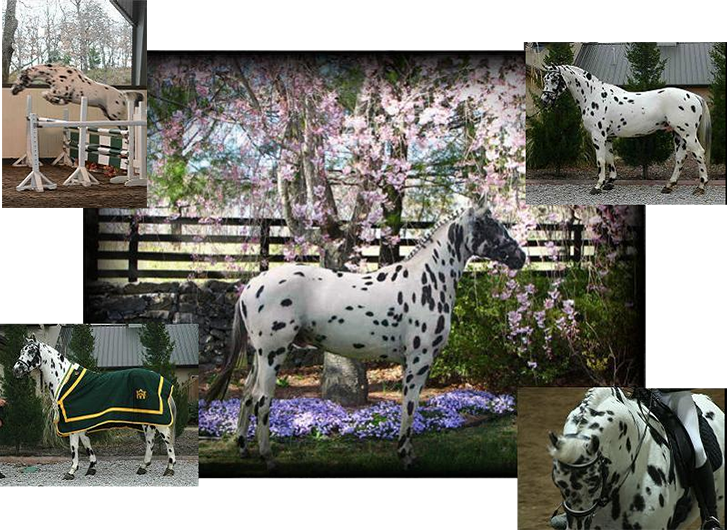 ---
Introducting...
America's First Purebred Fewspot Knabstrupper Stallion!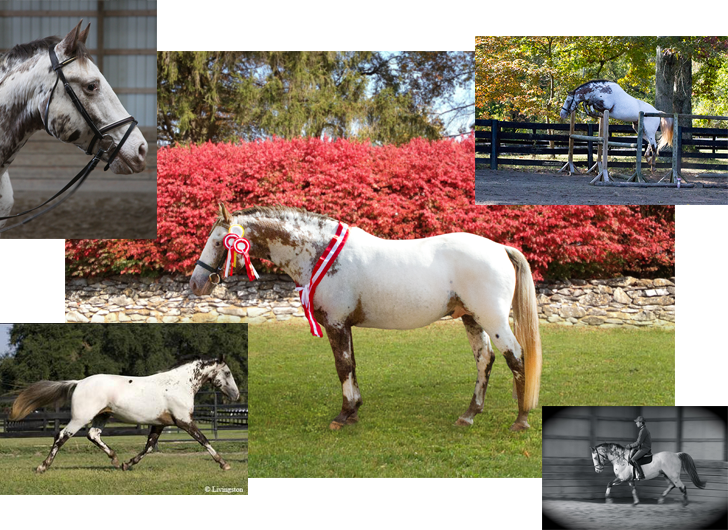 The first purebred fewspot Knabstrupper colt born here in the United States. His dam is the magnificent Tusindfryd. Danish Design posses all of the characteristics of an extraordinary Knabstupper. He is an absolute top of the line stallion for perspective mare owners, with phenomenal movement, and presence, a superb pedigree and is homozygous meaning he is guaranteed to pass on the LP gene for spotting, thus his offspring will always have some form of spotted coloring. Much of his ancestry is comprised of full spotted leopards and he is 8 out of 8 in the third generation making him a RARE 100% Knabstrupper. He will be available to a limited number of select mares. For more info don't hesitate to contact us. Live foal guarantee offered with all breedings from LaRen Stud.
---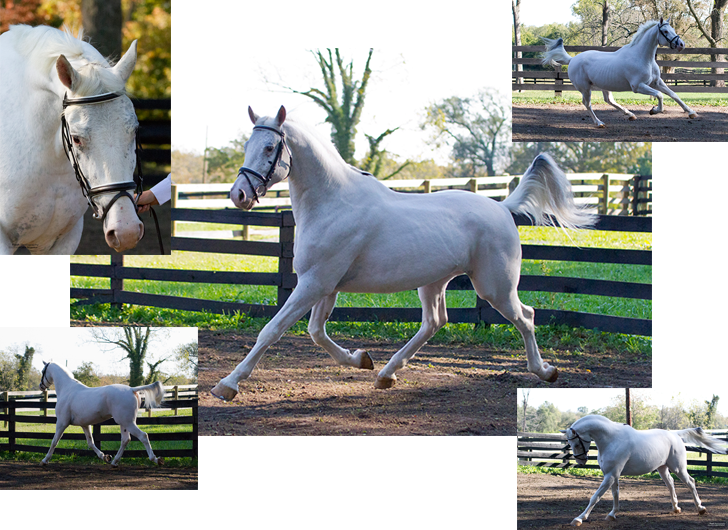 Lady Killer af LaRen 2009
S= Sheik af Hallundbaek KNN 202 DK Knab
DS= Rasmus af Hallundbaek KNN 119 Dk Knab DDS= Don Ibrahim KNN 92 DK Knab
LaRen Stud is proud to present Lady Killer af LaRen, who is the epitome of quality sport horse breeding. He is a prime example of a top quality sport horse, produced through years of dedication to breeding the best to the best. This 100% purebred fewspot stallion, is the best of what the Knabstrupper breed has to offer, meeting the breed standards to perfection. His lovely type, gaits and strong athletic ability showcase his potential to be a competitive contender in multiple sport horse arenas. Lady Killer's contribution to the breed as a sire will be remarkable in the years to come. Being the offspring of the much sought-after stallion Sheik af Hallundbaek and prized mare Comtesse, Lady Killer is tough to beat. His tremendous athleticism was cultivated through generations of careful and selective breeding. Lady Killer has the power and scope to excel in any discipline. At three years old, he is already showing exceptional movement in all three gaits as well as fabulous form through the jump chute. This stallion has terrific presence, self-carriage and suspension to spare. Lady Killer has the "killer" combination of the modern sport horse type with the benefit of a beautiful purebred ancestry. Lady Killer is the perfect compliment to solid colored mares of Thoroughbred, Warmblood, and Arab descent, whose owners are looking to create their own Knabstrupper sport horse.
---

Limited Edition af LaRen 2009
S= Sheik af Hallundbaek KNN 202 DK Knab
DS= Felix KNN 140 DK Knab
DDS= Stavsdal's Lobi DK Knab
Limited Edition of LaRen - whom we call "Magic" - is a fairytale Knabstrupper of the highest quality seldom seen in the breed. He is sired by our flagship stallion, Sheik af Hallundbaek and is intensely purebred out of a phenomenal mare line that is hard to find in Denmark. He is unique in that he combines both of LaRen Stud's most coveted foundation bloodlines. In addition, he's a genetical color mine, being black-based and homozygous for the Leopard Complex "spot gene". He is also believed to be Patn 1 with the ability to reproduce a pattern of "BIG spots", as both parents are full-spotted black leopards with a long ancestry of the same. "Magic" possesses the elegance, correctness and agile movement of the finest Classical Old World Knabstruppers. He has the height, short back, straight legs, and extreme athletic ability that will give you the Knabstrupper foal of your dreams. This is a rare opportunity to breed to the creme of our crop. Limited book to approved mares only.
---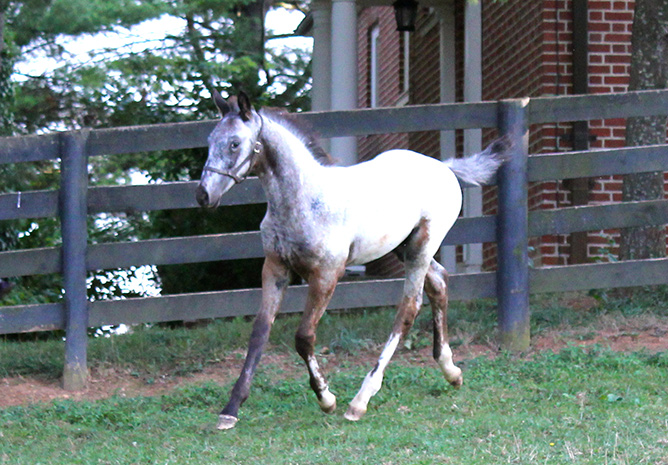 Debonaire af LaRen 2011
S= Danish Design af LaRen
DS= Figaro af Hallundbaek KNN147 DK Knab DDS=Patrokles KNN107 DK Knab
DEBONAIRE AF LAREN is a stunning colt with a compact, correct and purposeful build. He has a pretty head and terrific color/pattern. In addition he is homozygous for LP, having the genetic guarantee to reproduce spots. With Pendora as his dam, he is an expressive mover, already showing his supple, ground-covering gaits. He loves people and will curiously follow a stranger around when walking into his pasture. Debonaire is a fabulous example of a refined, classic Knabstrupper with all the potential to excel in the sport horse disciplines. He has the desired qualities to build a Knabstrupper breeding program around.
---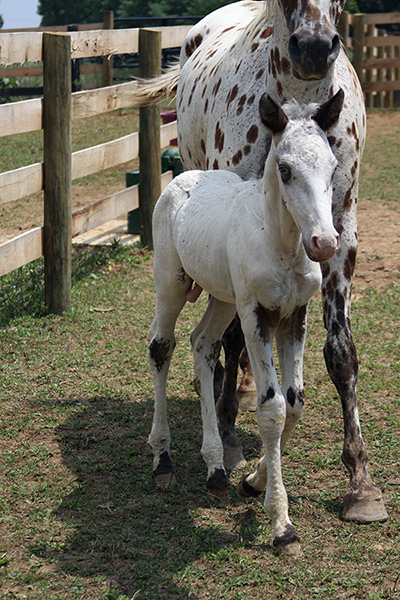 FOR SALE
Decadence af LaRen 2012
S= Danish Design af LaRen
DS= Figaro af Hallundbaek KNN147 DK Knab DDS=Patrokles KNN107 DK Knab
DECADENCE AF LAREN is a sporty, well put together colt, with a very smart and loving personality. Decadence is the perfect combination of style and friendliness. He is charmingly approachable and easily handled. His shimmery all white coat with black points dazzles. Once again his dam and sire have transmitted their LP gene in excess, making Decadence homozygous for spots. He is a most promising colt with a strong harmonious exterior. With impressive early movement, he is sure to shine in the show ring. He is a possible stallion prospect as well with the decadent color contribution, bringing his type and athleticism to the table.